Create a New Dial Up Connector
Before you get started, make sure you have your Internet Hotline Account Information available. This would be your IHOT user name (ie: username@ihot.com), the password for your account and the dial up number you need for dial up access. ( Click here to find dial up numbers)
First, Create a new Dial Up Connection
There are multiple way to create a new Dial Up Connection. It all depends on which view you have on your control panel. We will use the way show below. Just follow the instructions.
Click on the "Start" button
Move the mouse over the Control Panel and click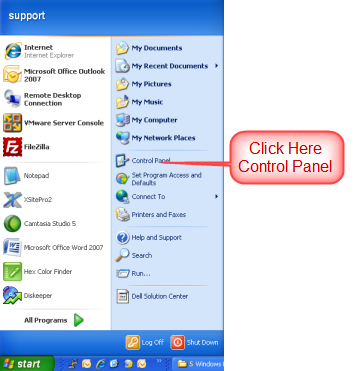 Once you have opened the Control Panel you want the display to look like the second one below called "Classic View"
If it doesn't look like this don't panic. Just click on the Line Link in the upper left corner of the Control Panel Screen show below where it said "Switch to Classic View". This will change the display so it shows about 30 ICONS.
Category View below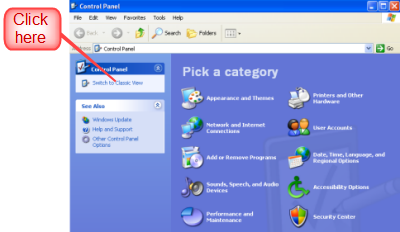 Classic View Below
Now we want to find the ICON called Network Connections the circled above, They are listed in alphabetical order. Double Click on the Network Connections to open it up.
You now want to click on "Create a New Connection"
That brings up the New Connection Wizard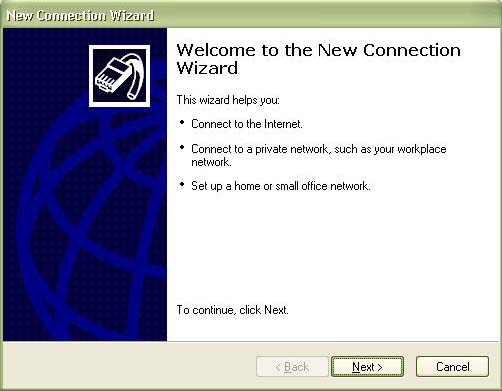 Click Next
Select ... Connect to the Internet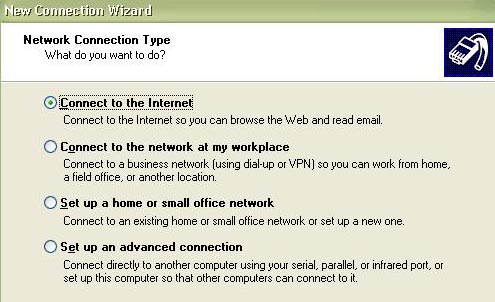 Click Next
Select ... Set up my connection manually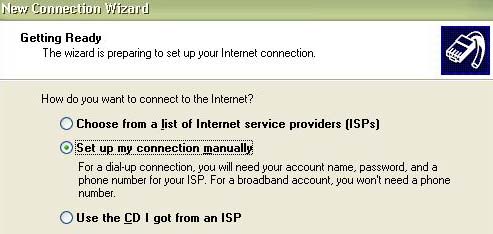 Click "Next"
Click the button next to Connect using a dial up modem
Click "Next"
In the ISP Name Box, type something to name this dial up connection. like IHOT dial up or my dial connect to IHOT. This can be anything you want. It just a label for the connector. It's so you can tell what it is in the list of connectors for dial up. You could have more than one.
Click "Next"
As an example......In the South San Jose area use the phone number 408-903-1055, otherwise use a number from our Dial Up Numbers List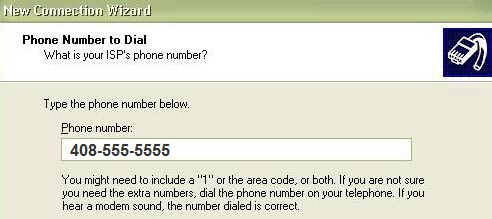 Click "Next"
From your IHOT Account Information, enter the Access Username in the Username box. Then enter the Access Password in both the Password and Confirm password boxes. Check the boxes at the bottom of the screen.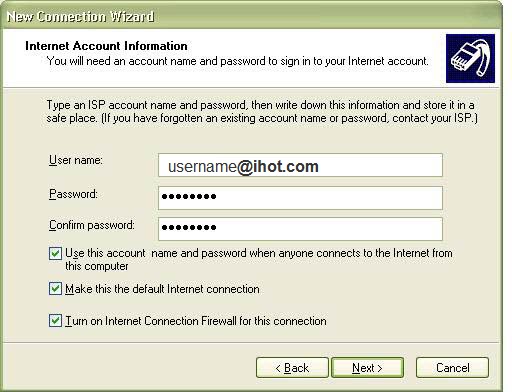 Click "Next"
Click on the box next to Add a shortcut to this connection to my desktop.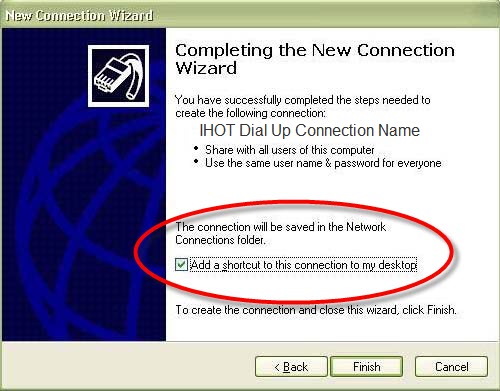 Click "Finish"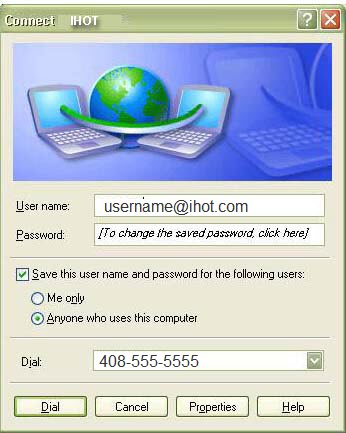 Finally, You're Done!
To Connect to the Internet, Click on the Dial button to connect to the Internet. Then, open your Internet Browser (Internet Explorer, Netscape or Opera) or your Email Program (Outlook, Netscape or Eudora) and away you go.
To get to the IHOT Dial up Connection window in the future, double-click on the Shortcut named IHOT on your desktop.